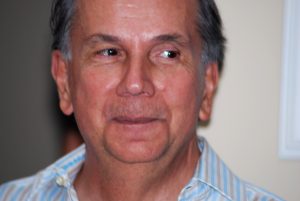 Artist Bill Mendes da Costa
West Australian artist Bill Mendes da Costa lives in Mullaloo with his wife Imogen. He has two children and five delightful Grandchildren Zara (9) ,Taya. (7), Torielle (4,) Grace (3) and Bethany (4 months)
The charcoal and colour wash drawings are from his latest series.
In these, Bill explores the synergy between black and white images and colour, where colour has no direct relation to the subject but creates luminosity and atmosphere to the overall picture.The canvases are from his up and coming exhibition "Blue Paintings & Happiness".
He also believes that every human being has a spirit, whether they know it or not., so when Bill paints he knows that something of his inner self goes into every picture, it's not just a photographic image. The biggest thrill for him, as an artist, is when someone 'connects' with one of his paintings. An example of this was, at a recent exhibition, a man sat on the floor in front of one of his paintings contemplating on it for at least 15 minutes, he had 'connected.'
He is also a fan of E H Shepard and A A Milne the original creators of 'Winnie the Pooh' and thinks the books are really for adults, not children. He loves the 'Pooh' so much that he did a series of his own illustrations and used some of the Milne quotes, but realises no one can catch that magic quite like they did.
Bill also loves cooking and makes his own Organic Chocolate, which accounts for his
'stoutness' exercises, like Pooh, he does them every day., when he remembers
Recent
Finalist in National Art competition with over 65 entries Australia wide.
One man, exhibition 'Not Framous Yet', Mullaloo.
A very successful recent one man art show, 'Not Framous Yet' and another 'Blue Paintings & Happiness' in 2019
Some of my artwork for sale at Coastal Art & Framing Woodvale shopping centre 

Also Etsy digital art shop where you can download your own click this link
All artwork Copyright Bill Mendes da Costa 2023